Bisses de Laldneri et Wiigartneri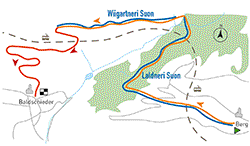 These two bisses are walked in a loop. The Ladneri dates from the very beginning of the fourteenth ventury and the Wiigartneri from the end of the same century. Both contain water and are still used to irrigate agricultural land, as well as to maintain a green belt along the BLS train line. The source of the Wiigartenri has been abandoned and it is fed by a pipe.
Total length : Approximately 10 km.
Altitude : Between 700 and 1000 metres.
Route time : 3 hours.
Location : To the right of the Rhône, above Viège (Visp) and Baldscheider.
Difficulty : No particular difficulty.
Ordinance Survey map 1 : 50'000 no. 274 T Viège (Visp).
Best period : April to November.