Bisses de Niwärch and Görperi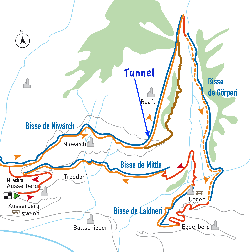 Built during the second half of the fourteenth century, there are stretches of this trail that are really spectacular. It forms part of the Mittla and Görperi circuit.
Total length : Approximately 15 km.
Altitude : Between 1300 and 1200 metres.
Route time : In a loop with the Bisse de Görperi approximately 5 hours without a break.
Location : Ausserberg above Viège (Visp) to the right of the Rhône. The middle stretch of the trail presents no particular difficulties. A very beautiful trail through dry meadows. The Görperi trail is classified by UNESCO.
Difficulty : Not suitable for those suffering from vertigo. To pass through the Nirwärch tunnel we advise that you carry a pocket lamp.
Ordinance Survey map 1 : 50'000 : no. 274 T Viège (Visp).
Best period : May to early October.