Bisse de St Jean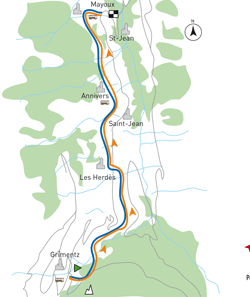 Also known as the Grand Bisse, it was long abandoned but was completely restored in 2012.
Total length : Approximately 5 km.
Altitude : Between 1500 and 1200 metres.
Route time : Between 1.5 and 2 hours.
Location : Val d'Anniviers, Grimentz, St Jean, Mayoux, to the left of the Rhône.
Difficulty : There are no particular difficulties. If you begin in Grimentz we advise good walking boots.
Ordinance Survey map 1 : 50'000 no. 273T Montana.
Best period : June to September.
This bisse contains water from mid-May to the end of October.