Bisse de Baar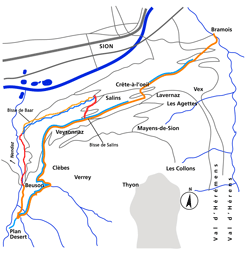 The Bisse de Baar dates from before 1450. It is situated to the left of the Rhône above Sion. It starts below Brignon castle and finishes above Turin. The best way to follow the bisse is either starting of ending in the village of Pravidondaz.
This bisse can form a loop with the Bisse de Salins.
Total length : Approximately 6 km.
Altitude : Between 850 and 700 metres.
Route time : Approximately 1.5 hours (without the return trip).
Location : Baar and Brignon are both in the locality of Nendaz, to the left of the Rhône.
Difficulty : An easy walk without particular challenges through beautiful apricot orchards.
Ordinance Survey map 1 : 50'000 no. 273T Montana.
Best period : Early April to mid-November.
This bisse contains water from earlyApril to late October.