Bisse des Miriouges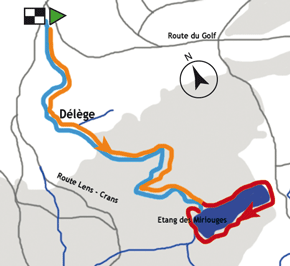 Built in the fourteenth century, at the same time as the Bisse du Ro.
Total length : 2.5 km.
Altitude : Between 1420 and 1330 metres.
Route time : Approximately 1 hour.
Location : Crans Montana, to the right of the Rhône.
Difficulty : There are no particular difficulties. The path is suitable for push-chairs and those with reduced mobility. There are a number of picnic places.There is also a rest area with a children's slide. .
Ordinance Survey map 1 : 50'000 no. 273T Montana.
Best period : May to November.