Bisse de Chervé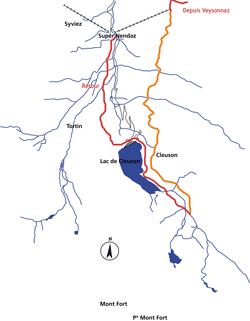 Built in 1862, this bisse has been abandoned but the path is still accessible and marked. It is located to the left of the Rhône between Siviez (Super-Nendaz) and the Cleuson Dam.
Total length : 10 km.
Altitude : Between 2000 and 2400 metres.
Route time : Between 5 and 6 hours depending on the chosen itinerary.
Location : Between Thyon 2000, Combatseline and the Cleuson Dam.
Difficulty : A magnificent hike at altitude, this bisse unfolds above 2000 metres and is inaccessible in snow. It is not recommended for those suffering from dizziness or a fear of heights. It is also not suitable for young children.
Ordinance Survey map 1 : 50'000 no. 273T Montana
Best period : From mid-June to late September.