Bisses de Nessjeri/Oberschta/Stigwasser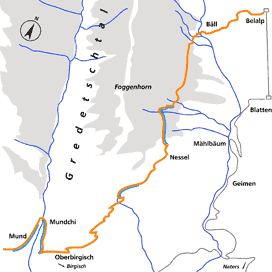 These are three very old bisses. The Stigwasser and l'Oberschta were built in the thirteenth century. As for the Nessjeri, it dates from the fifteenth century.
It is worth noting that the Nessjeri, which is above 2'000 metres, contains water. This is quite rare for a bisse at such altitude. The three bisses can, of course, be followed individually.
Total length : 15 km (Nessjeri 10 km, Oberschta 3 km, Stigwasser 2 km).
Altitude : Between 2200 and 1250 metres.
Route time : Between 4 and 5 hours, depending on walking ability and the number of breaks you take.
Location : Belalp above Blatten, Birgisch and Mund, to the right of the Rhône above Naters.
Difficulty : A difficult trail. There is approximately 1000 metres altitude difference of downhill walking to reach the Oberschta and the Stigwasser.
Ordinance Survey map 1 : 50'000 no. 274 T Viège (Visp).
Best period : June to September.