Bisse du Milieu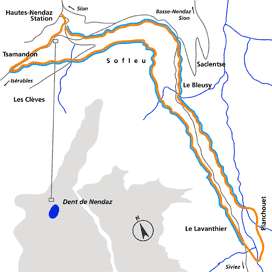 Built at the beginning of the eighteenth century, this bisse served not only an agricultural purpose but was also used as a source of energy for sawmills and grinders.
Total length : 5 km.
Altitude : Between 1500 and 1350 metres.
Route time : Approximately 3 hours. If you decide to walk the loop with the Bisse Vieux it will take between 3 and 4 hours.
Location : Haute-Nendaz, Planchouet, to the left of the Rhône. This bisse can be walked in a loop with the Bisse Vieux or the Bisse d'en Bas.
Difficulty : There are no particular difficulties.
Ordinance Survey map 1 : 50'000 no. 273 T Montana.
Best period : May to October.