Bisse de Riederi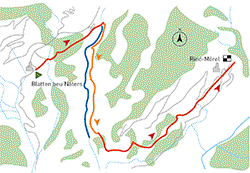 Built in the first half of the fourteenth century, this bisse was still active until the 1940s. It is now completely abandoned. A spectacular trail crossing sheer vertiginous drops follows the old path of the bisse from Blatten (bei Naters) to Ried-Mörel. This trail can be followed in both directions but we advise beginning in Blatten.
Total length : Approximately 8 km from Blatten.
Altitude : Between 1300 and 1200 metres.
Route time : Approximately 3 hours.
Location : To the right of the Rhône, above Naters, Bitsch and Mörel.
Difficulty : Not suitable for those suffering from vertigo. Can not go to with children in infancy
Ordinance Survey map 1 : 50'000 no. 274 T Viège (Visp).
Best period : June to October.
This abandoned bisse carries water for the final third towards Ried - Mörel.