Bisse du Heido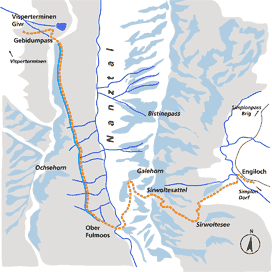 In French the «Bisse du Païen». A magnificent walk above Visperterminen, home to the famous Heida (Païen) wine. Step out of time with a view of the Fletschhorn and the other side of the Rhône valley, the Bietschhorn, the Aletschhorn and a partial view of the Aletsch Glacier.
Total length : 10 km in one direction (the bisse measures about 7 km).
Altitude : Between 2000 and 2400 metres.
Route time : Approximately 3 hours, without the return trip.
Location : To the left of the Rhône, Visperterminen above Viège (Visp) and the Nantztal.
Difficulty : No particular difficulty apart from the altitude (bring warm clothing).
Ordinance Survey map 1 : 50'000 no. 274 T Viège (Visp).
Best period : June to September.
Contains water from early June to late October.