Petit Ruisseau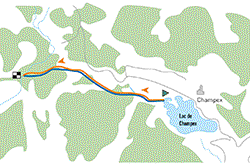 This bisse is also named Bisse de Champex or Bisse du Val d'Arpette. It seems to date from the fifteenth century. Il feeds the Champex lake from the Val d'Arpette. Thus, it should contain water throughout the year.
Total length : Approximately 6,5 km
Altitude : Between 1500 and 1650 metres.
Route time : Approximately 2 hours.
Location : Champex Lac, to the right of the Rhône, above Martigny
Difficulty : No particular difficulty.
Ordinance Survey map 1 : 50'000 no. 282 T Martigny).
Best period : June to October.