Bisses de Grächen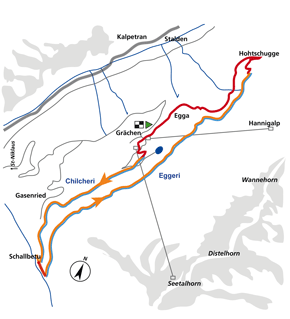 The slopes of the village of Grächen are irrigated by five parallel bisses which take water from the Riedbach river. They were all built between the sixteenth and seventeenth centuries. They can be walked in a loop. The most beautiful trail goes by the Chilcheri and returns by l'Eggeri.
Total length : Approximately 11 km.
Altitude : Between 1600 and 1840 metres.
Route time : Approximately 4 hours.
Location : The Grächen area in the Saas valley to the left of the Rhône.
Difficulty : There are no particular difficulties.
Ordinance Survey map 1 : 50'000 no. 274 T Viège (Visp).
Best period : June to early October.
These two bisses contain water from early June to late September.