Bisses Ossona and Sevanne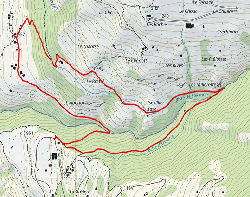 The bisses of Ossona and Sevanne are part of a pilot project of the confederation to rehabilitate the rural habitat on the plateaus of Ossona and Sevanne. The Ossona Bisse was rebuilt in the 2000s. The bisse de Sevanne is abandoned for now.
Total length : : about 3 km
Altitude : between 900 and 1'000 meters above sea level
Route time : about 2 hours
Location :Val d'Hérens on the left bank of the Rhône. Departure from parking P2 on the road to Ossona.
Difficulty : no particular difficulty
Ordinance Survey map 1 : 50'000 no. 273 Montana
Best period : All year