Raye des Verbiérins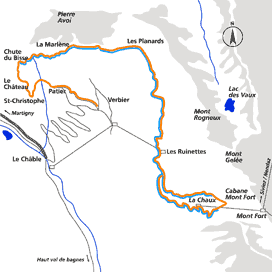 This bisse, built in 1450, is walked in a loop with the Bisse de Levron. It is possible to continue as far as Mont Fort where you can spend the night in a mountain hut.
Total length : Approximately 3 km as far as the Mont Fort cabin.
Altitude : Between 2200 and 2500 metres.
Route time : Approximately 2 hours.
Location : Les Ruinettes, above Verbier.
Difficulty : No particular difficulty.
Ordinance Survey map 1 : 50'000 no. 282 T Martigny.
Best period: June to September.
Contains water from early June to late September.